BioResources has periodically joined with organizers of international scholarly conferences to provide a venue for peer review and publication of articles, earlier versions of which have appeared in conference preprints and presentations. Such articles undergo the same rigorous peer review process as articles that are independently submitted to the journal.
Italic4 Conference, Rome, 2007
The following articles were peer reviewed and accepted for publication in BioResources after appearing in the Italic4 conference. Download a copy of the entire collection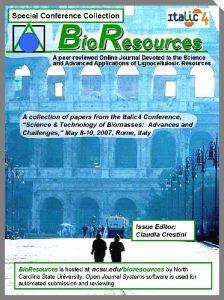 Papers from CIADICYP 2006, Santiago, Chile
Research

pp 223-234

Colodette, J. L., Gomide, J. L., Júnior, D. L., and Pedrazzi, C. (2007). "Effect of pulp delignification degree on fiber line performance and bleaching effluent load," BioRes. 2(2), 223-234.AbstractPDF

Industrially made kraft pulps obtained by a modified cooking process may contain 60-75 mmol/kg of hexenuronic acids (HexAs), which represents 6-7.5 kappa units. HexAs do not react with oxygen and very little of it is actually removed across the oxygen delignification stage, causing low efficiencies in the range of 25-35%. In this study, an economical evaluation of the ECF bleaching processes was carried out, having none and double-stage oxygen delignification, when applied to eucalyptus pulps of kappa varying in the range of 14-21. The bleaching processes included sequences containing specific stages for HexAs removal (Z, A/D and DHT). Results indicated that the use of oxygen delignification was not economically attractive, particularly for HexA-rich low-kappa pulps, but processes without oxygen delignification present significant environmental challenges.

Research

pp 252-264

Felissia, F. E., Area, M. C., Barboza, O. M., and Bengoechea, D. I. (2007). "Anti-scaling agents in kraft pulping," BioRes. 2(2), 252-264.AbstractPDF

Scale formation in the digester during kraft pulping represents a great problem in pulp mills. Scaling reduces pulping control and efficiency, increasing energy costs and leading to cleaning breakdowns, with subsequent losses in productivity. The kraft process promotes CaCO3 scaling due to high calcium ion and carbonate concentrations, as well as high alkalinity and temperature levels, which increase the speed with which liquors reach a state of supersaturation. This work examines the action of diethylene triamine penta(methylene phosphonic acid) (DTPMPA), either alone or combined with commercial anti-scaling agents, as an inhibitor of calcium carbonate precipitation in the kraft pulping of Pinus taeda. The theoretical amount of calcium deposited in the digester was obtained by mass balance. Soluble calcium was stable throughout cooking when using the phosphonates alone or combined with anti-scaling agents. When adding only DTPMPA, calcium stays in the pulp, rather than forming deposits.

Research

pp 399-407

Mocchiutti, P., and Zanuttini, M. A. (2007). "Key considerations in the determination of polyelectrolyte concentration by the colloidal titration method," BioRes. 2(3), 399-407.AbstractPDF

Medium or high charge density cationic polyelectrolytes are frequently used for water treatment. In the papermaking wet-end they are used as retention agents or as flocculating aids. Negative polyelectrolytes that enter the papermaking system increase the demand for cationic polyelectrolytes. Polyelectrolyte concentration can be determined by the colloidal titration method, using either of two options for detecting the endpoint: i) visual observation or spectrophotometric determination of the colour change of an indicator, or ii) streaming current measurement. This work discusses the best conditions for the application of the titration using spectrophotometric measurement for the end point detection. Poly-diallyldimethylammonium chloride was used as the cationic polyelectrolyte, potassium polyvinyl sulphate as the negative polyelectrolyte, and o-toluidine blue as the positive indicator dye. The polyelectrolyte concentration range, interference from the metal ions affecting the indicator color change, the optimal indicator concentration to avoid precipitation problems, and the effect of adding a surfactant to the indicator solution were also considered. Titration curves were analyzed and optimized. Under these conditions the technique provided results with acceptable precision.
The editors wish to express our appreciation for your interest and support of BioResources, a peer-reviewed journal devoted to the science of lignocellulosic materials, chemicals, and their applications, which is available on line, and also available to selected institutional libraries as a printed edition.